Partnerships are at the heart of tackling poverty and inequality – Q&A with Shane Nichols, CEO of Good Return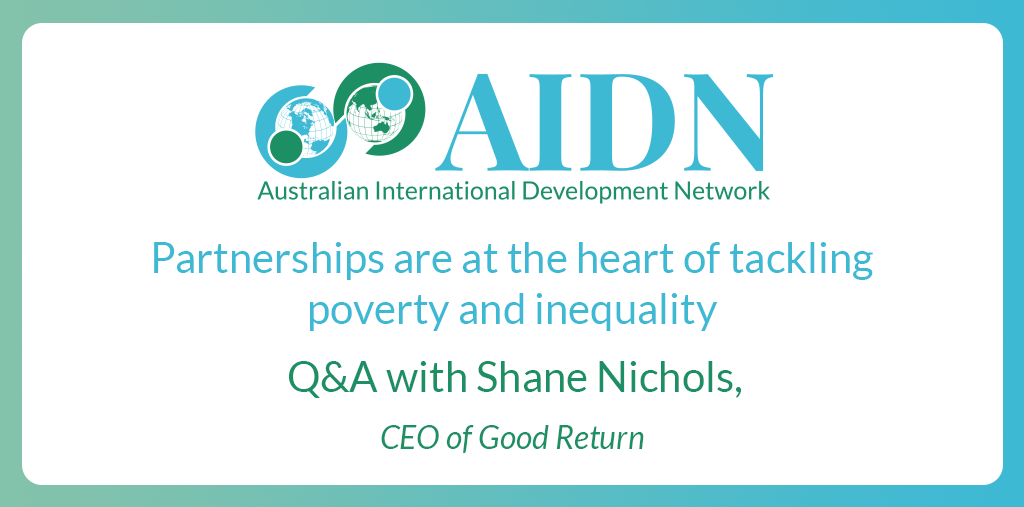 1. Firstly, congratulations to both Accenture Australia & New Zealand and Good Return, for being the 2020 recipients of the International Philanthropy Award. The award recognised the unique relationship between the funding / donor organisation and the INGO. What do you think made Accenture's support, and partnership with Good Return, stand out?
"The very definition of a partnership includes collaboration and cooperation, and these are key features of our relationship with Accenture," says Shane Nichols CEO of Good Return. "Accenture has immersed itself in understanding the needs of the communities we support, and as a result, has provided additional resources to drive awareness and engagement and developed innovative digital solutions to scale and drive impact."
"I've not come across a corporate supporter who has been so willing to be genuinely engaged across so many levels of the company, from the Managing Director and Foundation Board members, to the exec team, and staff across the company- both in Australia and internationally, and across the various elements of the work we're doing here at Good Return.
And they are genuinely interested. We see Accenture walking the talk and that's how we've been able to sustain a strong relationship for more than 10 years now and have some terrific outcomes on the ground as well."
2. How did Accenture work to adopt and promote practices to support, strengthen and sustain the partnership with Good Return?
"Accenture has fostered the partnership by engaging with the Good Return team when discussing progress, showing understanding of the realities of project implementation on the ground and being open to our suggestions regarding reporting requirements.
One of the outcomes of the partnership has been the development of the My Money Tracker (MMT) mobile app, which saw Accenture's pro bono work extend to staff visits to Cambodia to help with research and user-testing.
This had a hugely positive impact on the project and was evident in the sensitivity and understanding those staff showed for the context and communities in which Good Return is working. Now, as mobile phone use increases across the country, the MMT is about to come into its own as a tool for locals to help control their economic destiny."
3. While I was reading up on your partnership and the work you've been doing on the My Money Tracker (MMT) mobile app I was astonished to learn that nearly 2 billion people around the world don't have access to a bank or financial institutions. What sort of impact does that have on an individual's daily life? And how does it affect their (and their families) ability to manage their own finances?
"Not having access to finance is incredibly limiting. The most critical thing is to have a safe place to save money for the future. Access to credit enables you to invest – in your business, in your home, in productive assets. Without this access, people are forced to either go without, or borrow from money lenders at extremely high rates of interest. This can lock them further into the poverty cycle. Access is one part of the equation – the other part is financial literacy.
Without financial literacy you can't lift yourself out of poverty. In order to have financial security you have to have knowledge of personal finance basics like managing how much you earn, tracking spending, savings, investing and borrowing."
4. Why is financial literacy so important for poverty alleviation?
"Financial literacy affects everything from day-to-day to long term financial decisions and this has implications for both individuals and society. When people are financially literate it helps to create more stable communities and reduce inequality.
The path to self-sufficiency lies in educating people about how to manage money and by providing support to build sustainable businesses. A positive cycle of economic improvement can then be created, as those that have been educated can in turn teach others in their community how to manage financial matters," continued Nichols.
5. What can you tell me about the My Money Tracker app that you've created? How does it work and what does it do?
"Good Return asked Accenture to create a digital tool that would empower low-income Cambodians, of whom 80% don't have access to banks or regular financial institutions, to become more aware of their personal and business money flows so they can make more informed and mindful decisions about their money and increase microfinancing opportunities.
Accenture researched, designed and developed a custom smartphone app. My Money Tracker makes recording and tracking income, expenses, dept and credit easy and intuitive for people that primarily live and work in a cash economy."
6. Given that the app has been specifically designed for end users living in developing economies what sort of cultural sensitivities did you need to take into consideration throughout the development phase?
"The app was designed in both Khmer and English and is the first money tracking app designed specifically for Cambodians. Informed by a deep understanding of Cambodian micro-business owners' needs and situations, the app helps keep track of their money habits within their daily routines."
7. I take it that the app is currently being tested with groups of users in Cambodia. What are next steps for product roll out and what mechanisms do you have in place to track its effectiveness?
"That's right. The app is currently being tested with groups of users, where we're tracking adoption and engagement metrics, as well as indicators of human impact using analytics. Using these insights we'll then design an outreach and engagement campaign to encourage widespread uptake of the app."
8. What was one of the most unexpected or interesting things you learnt while working together on the app?
"Accenture is deeply passionate about supporting the mission of Good Return and it is this passion that drives the success of the partnership."
9. How has the partnership contributed to more and/or better international philanthropy by Australians?
"Since 2015, Accenture has also supported Good Return through staff engagement including workplace giving, event partnership, pro-bono volunteering and continued support of Good Return campaigns.
Last year, Good Return and Accenture partnered to hold an Annual Fundraiser at which one of the Accenture staff who visited Cambodia shared his experience and the need for the My Money Tracker app, soliciting additional donations for the project. Good Return raised $130k from that event.
Volunteering and staff giving is an integral part of the Accenture culture which Good Return has benefited from over the years. Not only does Accenture encourage it but they match every dollar donated to Good Return, helping thousands of women that we support."
Thank you so much for your time and best of luck with next steps for the roll out of the My Money Tracker mobile app.
Click here to watch our final webinar for 2020, in which we explore these questions in more detail.