The 'Participation Revolution' – How refugee leaders are key to resolving the global forced-migration crisis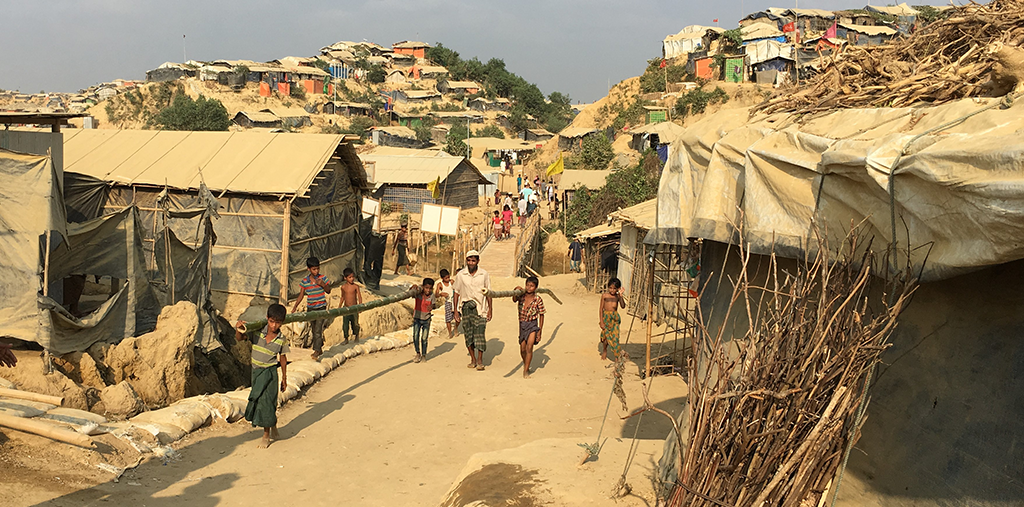 This photo was taken on a visit with Children on the Edge to Kutupalong Refugee Camp, Cox's Bazaar, Bangladesh.
One per cent of the world's people are displaced from their home (UNHCR, 18 June 2020). One of them is 29 year-old Mozhgan Moarefizadeh. Originally from Iran, Mozhgan now lives in Indonesia after being forced to flee what was a 'nice, relaxed life' in the city of Shiraz, almost a decade ago.
Mozhgan features along with refugee leaders John Jal Dak from Rhino Refugee Camp, Uganda, and Najeeba Wazefedost from Sydney, in AIDN's next webinar on Tuesday November 10.
Despite lacking any official status herself, Mozhgan is fully occupied in supporting her fellow refugees to survive in a country where they are denied the right to work. She is also the co-host of an outstanding new Guardian podcast series, 'The Wait', which shows how from birth to death, people seeking asylum lack basic rights in Indonesia.
Only .1% of global humanitarian funding makes it to local leaders, let alone refugee leaders like Mozhgan, despite the fact they are best placed to know the needs of their own people.
A coalition of refugee leaders, NGOs and funders have come together as 'Refugee Lead' to break down the barriers like registration issues, language problems and a lack of networks which stop funding getting to leaders like Mozhgan. The movement is calling for more flexibility from INGOs and funders. For instance, Mozhgan has been on the cusp of receiving funding before, only to find the conduit NGO required a verification letter from the Indonesian government, an impossible requirement for refugee-lead organisation.
Despite a lack of meaningful funding, Mozhgan started the Refugee Advice and Information Centre (RAIC) in Jakarta to help others navigate the bewildering nature of a life in limbo. Its not what she had in mind when she studied English translation at university in Iran, but Mozhgan doesn't feel she has any choice but to help her community in exile.
Similarly, John Jal Dak in the Rhino refugee camp Uganda says he 'felt pain in his heart' when he was asked, at the age of 19 to take on a leadership role in his community; he was away from his parents and life was hard. But he felt he had no choice when he saw large NGOs come in and provide youth with programs that they had no hand in devising, 'were we all going to be footballers?' he asked about the proliferation of sport programs for youth.
Half the world's refugees are children, and as John says many are forced to step up to leadership roles in the absence of mentors; 'we are today's leaders and the elders of tomorrow' he says. John formed Youth Social Advocacy Team, and their first campaign was to address violence against women in the South Sudanese community in the camp. But people continue to question their legitimacy, John says, asking 'who gave you the right' as an unregistered person to run this campaign.
Mozhgan and John's stories are typical. Globally refugees typically have limited access to basic rights such as education, health care, employment and freedom of movement. This poses significant challenges at the best of times, but COVID-19 has exacerbated these issues and is having a profoundly devastating impact particularly in camps where social distancing is impossible, water and health services scarce and personal protection equipment completely inaccessible.
As international NGO workers empty out of camps and refugee settings during COVID, refugee leaders are stepping into the breach. Both John and Mozhgan are involved in the local response, not only to the health risks but also to the economic fallout of COVID.
Najeeba Wazefedost is a former refugee who now lives in Sydney and is the Co-Founder of the Global Refugee Network and Founder of the Asia Pacific Network of Refugees. She has seen a step change in attitudes to meaningful refugee inclusion globally, and calls it a 'participation revolution'. She would like to see funders move away from conventional measures of success to see investment in refugee leaders and their organisations as an investment in people.
As John Jal Dak asks, 'can you hear our voice? Its either a yes or a no.'
Anna Demant,
Foundation Manager, Planet Wheeler Foundation
AIDN Committee Member