Questions to our panel – Myanmar in Crisis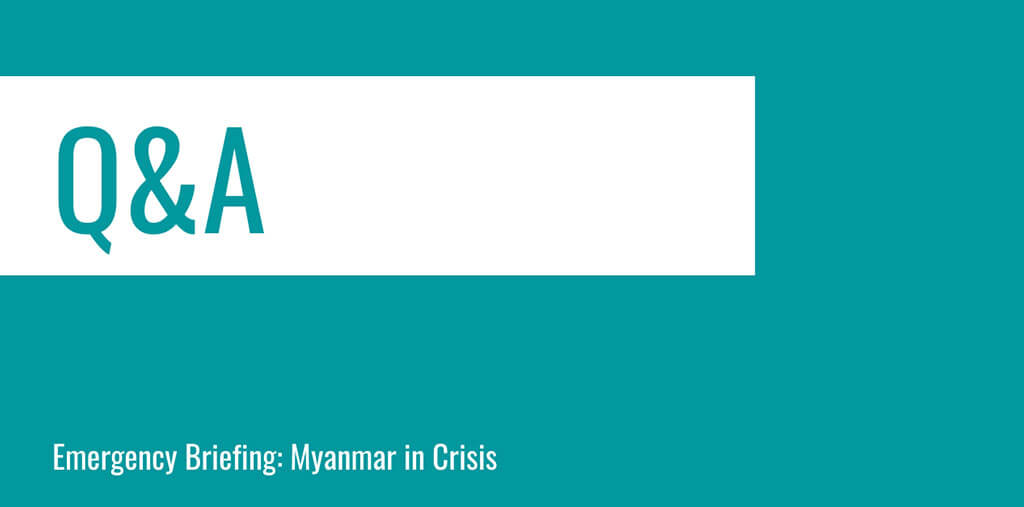 Thanks to everyone who submitted questions during our Emergency Briefing: Myanmar in Crisis.
We have summarised some of the questions posed to the panel and asked them to respond. Here are their answers.
We could have organized a separate webinar on the themes raised through the chat and question function during the session.
Questions related mainly to how the generals are financing their operations, and there were a couple of questions asking if we can trust the Generals statements at fora such as ASEAN, or promises to hold future elections:
Definitely, we can't trust the General's promises. In 1988, they promised to hold an election and return the power to civilian government, and that they would "go back to (their barracks)". They never keep their promises.
Pa Hmun, Buram Democratic Support Network and Global Chin Diaspora Leader
There was lively discussion on the chat function during the session on how to pressure the Military as individuals and people in private sectors
Rawan Arraf, Australian Centre for International Justice drew attention to the excellent work of Justice For Myanmar in exposing the cartel's finances: www.justiceformyanmar.org.
She said, "It is a great strategy! The Australian Centre for International Justice has been focusing our efforts on foreign companies investing in Myanmar military companies, specifically Adani Ports and Special Economic Zones which is also involved in Adani's Carmichael coal mine." (see sidenote, Adani may abandon their planned 'Adani Ports and Special Economic Zone' project in Myanmar if it is found to violate US sanctions)
It is good to hear that this is an effective strategy, Publish What You Pay have been leading efforts to put pressure on Australian companies.
Michelle Higelin, Action Aid Australia
100% agree with crippling the military funds and businesses. We need to boycott military related businesses, support people-to-people small businesses. But we can't do this alone, we need international countries to block access to military to their funds. Especially in ASEAN countries. A lot of military money is in Singapore and Thailand.
Zac Oo
What do you think is the best way to encourage the Australian government to enforce sanctions?
1. Australian Government to work together with like-minded countries (US, UK, Canada, …) to enforce targeted sanctions. For example, Woodside Petroleum is involved in oil & gas exploration in Burma (which only) benefits the generals. The Military generals have business interests in Australia such as property ownership, Bank accounts, and family members living in Australia as students.
2. Australian government should collaborate with Western countries to pressure ASEAN. ASEAN has more influence on the Military Generals than the UN or US.
Pa Hmun, Burma Democratic Support Network and Global Chin Diaspora Leader
What do you say to people who argue that if Australian companies withdraw their investment in Myanmar, people will lose their jobs that may increase poverty.
From my perspective, civilians of Burma, especially ethnic people, have been suffering from poverty for a long time. Their situation has worsened due to the armed conflict and attacks on their villages.
Burma's economy is mostly dominated and owned by the regime, and their crony associates. So many people have become impoverished from the economic mismanagement and political instability. Taking money away from the regime, and targeted economic sanctions may have consequences for the people, but the regime and cronies will suffer the most.
A lot of people are risking their lives and security by leaving Burma and going elsewhere to find a job and work as illegal migrants without adequate protection.
Naw Ta Mla Saw, General Secretary, Karen Women's Organisation
Do the military need Chinese backing to stay in power?
Yes. They need Chinese government's protection in UN. The Chinese Government has a huge influence on generals, and they are in the same lucrative business (Timber, jewelry, Oil & Gas, construction, Infrastructures, production assembly lines)
Pa Hmun
Has UNHCR implemented any new support since the coup?
On the Thai side of the border, UNHCR is practicing standard operating procedures only. Thailand is not granting any new asylum. They have pushed back a number of refugees, even from the recent conflict Naw Tam La Saw was talking about, and UNHCR are not able to register anyone fleeting the coup.
Manny Muang, Myanmar Researcher Human Rights Watch
How far reaching is the current advance of the military in remote and rural areas of Myanmar, noting that most reports are centred on the major cities?
They have reach all across Burma, they can reach the small percentage of the land they don't control because they have the military capacity to send jets in to attack people
On another level, they control the media. They have made it illegal to watch a broadcast from another provider.
Phil Thornton, journalist
How many people in the military (Tatmadaw) and their extended families and cronies? What percentage of the population?
Although it is hard to say exactly how many people are in the Tatmadaw and extended families and cronies, the army itself numbers over 400,000 soldiers, the second biggest army in Asia after Vietnam. This is compared to a combined ethnic army strength of 60,000.
They are arguably the most successful dictatorship in the world and have been in power in one form or another since 1962.
What level of assurance and security would a donor require to invest in NGO's working in Myanmar?
Wherever possible support trusted local people and leaders to reduce the amount of bureaucracy between the funder and recipient.
Local partners know the evolving situation and donors need to be flexible. For instance, currently you can't give directly to bank accounts in Myanmar.
If donors go away local people will still manage.
As a side note, the military are currently trolling through bank accounts since 2016 to check for foreign donations, mainly in light of the raids on the Open Society Foundations offices in Yangon.
Phil Thornton, journalist