Meet the Speakers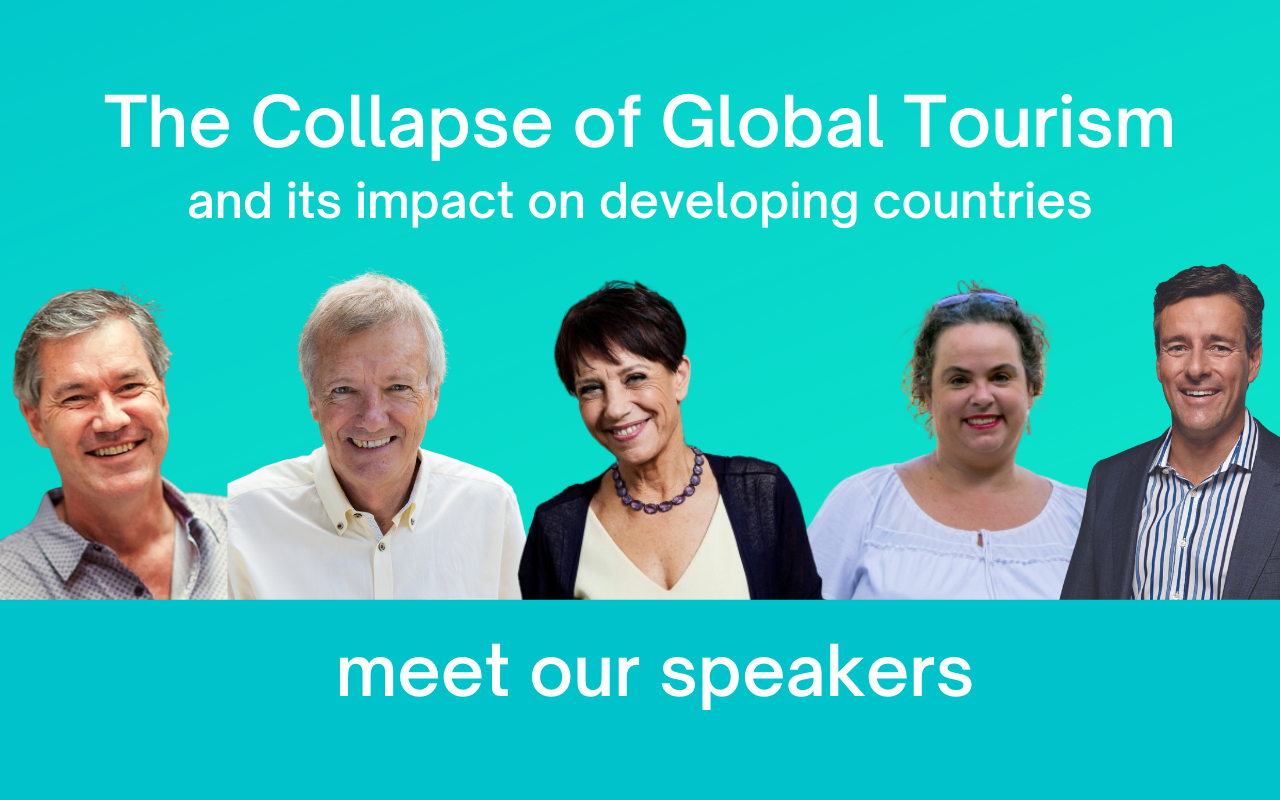 On Wednesday 15 September, AIDN will host a free webinar to discuss the global tourism crash and its impact on developing countries.
We know that tourism is one of the most important sources of foreign exchange earnings and job creation in many poor and developing countries.
According to the World Travel and Tourism Council 34 million jobs have already been lost in the Asia Pacific region and a further 7.2 million in Africa due to the global tourism crash. The toll on developing countries is expected to continue well into the future with uneven vaccination rollouts.
The Collapse of the Global Tourism and its Impact on Developing Countries will be held from 4pm – 5pm (Australian Eastern Standard Time) on Wednesday 15 September. To register, click here.  
Read more about our panel below.
Our facilitator: Jennifer Byrne, renowned journalist and broadcaster
Jennifer Byrne trained in print at The Age in Melbourne. She has spent much of her career in broadcast media including radio host, pioneer reporter at Channel Nine's Sunday and twice working as a foreign correspondent, first with 60 Minutes and later the ABC. Jennifer created and spent 11 years as host of the ABC Book Club and most recently launched the Australian version of Mastermind on SBS. She is currently working hard at not writing a book.
Rob McGeary, Director at APT Travel Group
The APT Travel Group (ATG), is a 90 year old Australian based global group travel business. Robert is extremely proud of his 30 years of involvement since joining the family business in 1987.
From the early days as a Tour Driver and Guide in the Northern Territory, to his current role as a Company Director, he has been driven to experience all facets of the touring business first hand.
Pivotal roles in his career have included leading the APT Day Tour business to its most profitable period, as the General Manager of Regional Touring; managing business acquisitions and sales for ATG, including the purchase and sale of several regional small group tour businesses; and forming a partnership with the indigenous groups in the Kimberley region, which continue today as APT's highly successful Kimberley Wilderness Adventures operation.
Robert's passion to be involved in various aspects of the business led him to complete an MBA, specialising in Marketing and Strategy, at Monash University and then accept a two year secondment as Sales Director in the ATG London office in 2004, with the objective to firm up important sales relationships.
As the company has grown, he has increasingly moved into the corporate side of the business, joining the Australian Pacific Holdings (APH) board on its formation with a focus on value, governance, strategy and structure, but he still enjoys experiencing the product first hand and direct interaction with customers.
He was fortunate to found and lead our family's active private charitable foundation, Capricorn Foundation. He has since moved to establish ATGs Philanthropic organization, One Tomorrow Charitable Fund, who's purpose is to have a positive, enduring impact on the nature and communities we touch. Uniquely, OneTomorrow donates alongside any donations travellers make.
He volunteers as Director and current Chairman of the not for profit Eildon Boat Club and is an active member of the Entrepreneur's Organisation and Family Business Australia.
He remains proud the private family business is founded on providing many memorable and exciting travel experiences to travellers. The family remains passionate about the progression of ATG and continuing to share the family's and staff's passion for exploring and appreciating the world with our valued customers.
Gemma Sisia, Founder of The School of St Jude, Tanzania
Gemma Sisia spent her early years on a sheep and cattle property near Guyra in northern New South Wales, Australia. She is the only daughter among the eight children of Sue and Basil Rice. Gemma's mother still lives on the family property at Guyra, and a number of her brothers live in the area.
After completing her secondary studies at St Vincent's College in Sydney, Gemma completed a science degree (majoring in genetics and biochemistry) at The University of Melbourne, followed by an honours program (where she was awarded first class) in the Northern Territory. Gemma concluded her tertiary studies with a Diploma of Education through the University of New England in Armidale.
At 22 years old, Gemma devoted her time to helping the poor in Africa. She decided to travel to Uganda to put her qualifications to good use, volunteering as a teacher in a local school for three years. This experience fostered her fervent belief that a free, high-quality education should be the right of all children and that education is the strongest weapon in fighting poverty, corruption and political instability. On returning to Australia, Gemma began fundraising to help underprivileged children in Uganda complete their schooling. Overwhelmed with support and donations, Gemma raised enough money to start an official fund to invest in the education of East Africa's poorest children.
While working in Uganda, Gemma travelled to neighbouring Tanzania and met Richard Sisia, a safari driver, who later became her husband. Richard's father Daniel Sisia, a village chairman, gifted the newlyweds a small plot of land that became home to The School of St Jude.
In 2002, The School of St Jude opened with one teacher and a handful of sponsored students. Through hard work and determination, the school has expanded to nearly 1,800 students across primary and secondary campuses that include boarding facilities. St Jude's also provides employment to almost 300 local Tanzanian staff, including academic leadership and their teams, ensuring a sustainable and self-determining future for St Jude's.
St Jude's provides a free, quality education to children who due to poverty and social pressures would otherwise be unlikely to complete their schooling. Drawn from families who often live on less than AU$4.60 a day, the pupils of St Jude's are shining examples of what students can achieve when they are given the opportunity to receive a quality education.
In 2015, St Jude's celebrated its first ever Form 6 (the final year of secondary school) graduating class, which placed in the top 10% in Tanzania. In 2020, St Jude's placed first in Advanced Mathematics in the entire country. Currently, there are over 800 graduates, many of whom are supported by the Beyond St Jude's program designed to extend a graduate's academic scholarship to tertiary education.
Beyond St Jude's participants complete a Community Service Year Internship teaching in under-resourced and understaffed government schools. They help to educate over 10,000 government school students each year who otherwise would not have had a teacher for core subjects like maths and science. Now, these St Jude's graduates are enrolled in universities across Tanzania and East Africa and in 2020 54 scholars graduated from their tertiary course supported by Beyond St Jude's. They are one step closer to becoming the next generation of Tanzanian leaders.
Gemma and the St Jude's team haven't stopped there. In January 2020 they opened a new secondary school for over 400 girls. This means more girls in the workforce, more graduates' accessing higher education and more role models for future generations to ensure they reach their full potential too. In addition to Gemma's daily oversight of St Jude's, Gemma and Richard also run a safari company and are busy raising four children: Nathaniel (born October 2001), Jacob (born April 2003), Isabella (born April 2008) and Louisa (born July 2012).
Darrell Wade, Co-founder & Chairman of Intrepid Group and Vice-Chair of World Travel & Tourism Council
Darrell Wade is the Co-founder and Chairman of Intrepid Travel, the world's largest certified travel B Corp.
A highly regarded entrepreneur and sustainability advocate, Darrell and Geoff ('Manch') Manchester founded Intrepid in the late 1980s as a new way for people to explore the world that was immersive, sustainable and gave back to the communities they were visiting.
Darrell has been an active advocate on climate change since 2005. He was one of the first Australians to complete Al Gore's Climate Reality Project training and is Vice Chair of the World Travel and Tourism Council where he leads the development of its sustainability agenda.
Darrell is part of the advisory group for Travalyst, a global partnership founded by The Duke of Sussex, and is the Chairman of The Intrepid Foundation as well as the director of two philanthropic foundations – the Intrepid Foundation and the Dawn Wade Foundation.
Tony Wheeler, Co-founder of Lonely Planet
Tony Wheeler was born in England in 1946 but spent most of his younger years overseas.
Tony's father worked for the British Overseas Airways Corporation as an airport manager, so he grew up in Pakistan, the Bahamas, Canada, the United States and England, never spending as much as two years in the same school. He returned to England to do an engineering degree, worked for a short time as an automotive engineer, then went back to university and completed an MBA.
As soon as Tony left business school in London in 1972, he and his wife Maureen set off for an overland trip to Asia. Their intention was to be away for about a year, get travel out of their systems and then settle down. When they arrived in Australia with 27 cents and a camera (which they soon pawned) between them, the continual questioning from people they met – How did you travel? What did you see? What did it cost? – inspired them to turn their diaries into a book. They called it Across Asia on the Cheap.
The first print run was 1500 copies, hand collated, hand trimmed, and hand stapled. Tony and Maureen took the book around to bookshops in Sydney and it sold out in the first week. Eighteen months in Southeast Asia resulted in their second guide, South-East Asia on a Shoestring, which they put together in a backstreet Chinese hotel in Singapore in 1975. The 'yellow bible,' as it became known because of its distinctive yellow cover, soon became the guide to the region. It has sold well over a million copies worldwide and is now in its 16th edition, still retaining its familiar yellow cover.
From those early guidebooks, Lonely Planet Publications grew to become the world's largest independent guidebook publisher with more than 500 titles in print, over 400 staff, and offices in London and Oakland as well as the head office in Melbourne. Tony and Maureen sold the business to BBC-Worldwide in 2007.
His books since Lonely Planet include Bad Lands and Unlikely Destinations.
Tony now keeps busy with Planet Wheeler Foundation, the foundation Maureen and he set up after they left Lonely Planet. Planet Wheeler supports 60 NGOs in Australia, Southeast Asia, Nepal, East and West Africa, mostly in health education, climate change and human rights. The Wheelers were also instrumental in the founding of the Wheeler Centre for Books, Writing & Ideas in Melbourne.
The Wheelers also have a publishing interest with Text Publishing in Australia, and Tony is on the board of Global Heritage Fund, an organisation working to protect and develop archaeological sites in the developing world.
The Collapse of the Global Tourism and its Impact on Developing Countries will be held from 4pm – 5pm (Australian Eastern Standard Time) on Wednesday 15 September. To register, click here.